The Team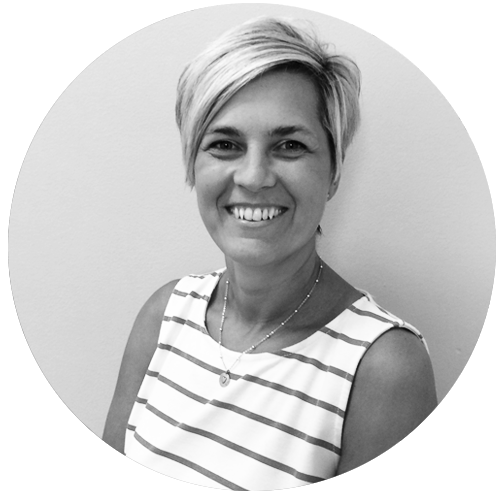 SARAH HINDSON
Business Development Manager

With over 20 years of knowledge & experience in the furniture industry, Sarah ensures everything at Barton Bespoke continues to run smoothly on a day to day basis.

T:  +44 (0) 7484 545 493
E:  sarah.hindson@bartonbespoke.co.uk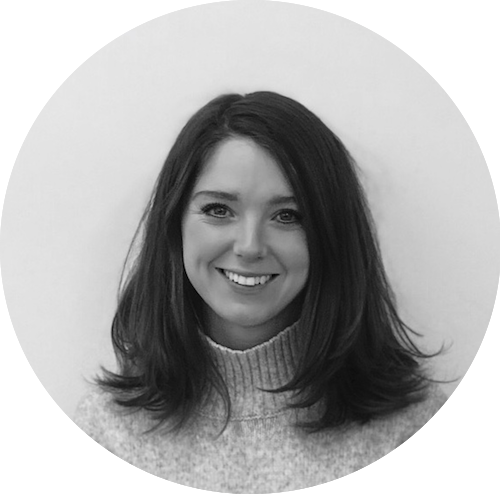 JENNIFER O'NEILL
Sales Agent - London & Home Counties

Jennifer has experience in both manufacturing and interior design and our clients love working with her and drawing on her wealth of experience and meticulous project management.

T:  +44 (0) 7497 608 465  
E: jennifer.oneill@bartonbespoke.co.uk
KATIE HOPKINSON
Sales Agent - North East/West & Midlands

We are excited that Katie represents Barton Bespoke among a select group of brands that pride themselves on originality and meticulous attention to detail. 
Having worked in the interior design industry for over 16 years specialising in high-end decorative lighting and accessories, Katie's extensive experience will no doubt be an asset to our client's projects.

T +44 (0) 7876 033 375
E mimamoo185@gmail.com
NATASHA STEVENS
Sales Agent - South West

With a background in Fashion & Textile Design, Natasha has worked in interior design and in sales for internationally recognised brands like The Romo Group and JAB International. Natasha runs a portfolio of premium brands and her wealth of knowledge will be an asset to any project.

T +44 7826 207615
E info@natashastevensinteriors.co.uk
CALLUM ROBB
Sales Agent - Scotland

Callum brings over 20 years experience working with interior designers throughout Scotland with a focus on retail and contract sectors of the industry. 
He works with some of the leading brands within the soft furnishing sector, amongst them one of the oldest Scottish brands Johnston's of Elgin and we are excited for him to represent Barton Bespoke and share his wealth of knowledge with our clients.

T +44 (0) 7739 705 616
E calum9099@icloud.com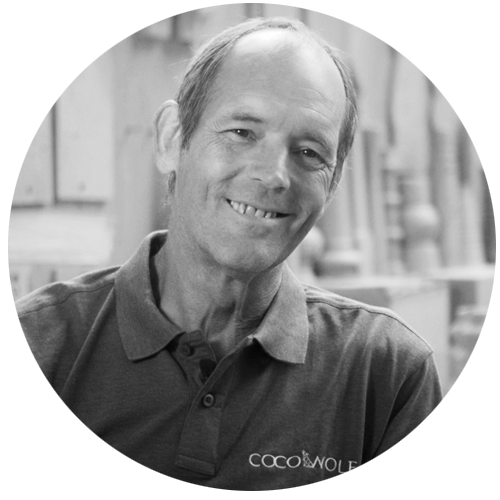 MARTIN CAVERS
Senior Carpenter

Martin is our resident classical machinery and frame assembly expert. With over 40 years of practical knowledge in the field there is very little Martin doesn't have experience working on.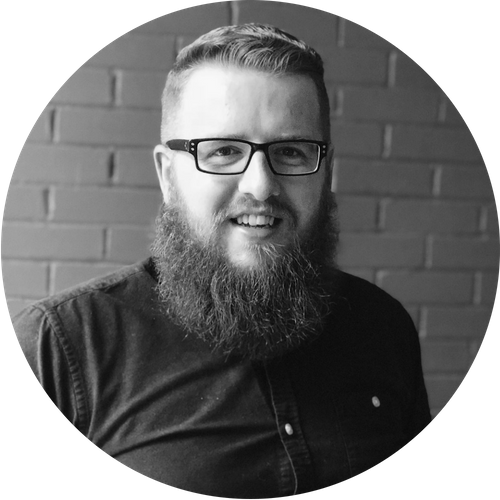 OLIVER HAMMOND
Head Design Engineer

Oliver heads up the Design Lab team at Barton Bespoke with a vast experience having worked for a wide range of high-end furniture and upholstery companies since graduating with a degree in furniture and product design. He has a variety of skills and experience that will help with any bespoke project.
AGATA NOWAK
Senior Design Engineer

Agata is experienced in producing high-end bespoke furniture for clientele with exacting standards.
Furniture and Product Design graduate our clients love her warm approach and attention to detail.

SAM WILKINSON
Senior Design Engineer

Sam's background is in contract furniture design and manufacture working with some of the most well known names in the industry. He has experience in designing for traditional manufacture techniques and modern methods.
With a masters degree in Product Design and Business he applies an analytical and systematic approach to the development process to ensure accuracy and efficiency for all projects.
LAURA GRAMA
Senior Design Engineer

An enthusiastic and creative designer with over 5 years of experience in luxury furniture manufacturing. Laura prides herself on being focused on finding the best design solutions for bespoke, custom and production pieces. Her background in joinery and soft upholstered furniture adds to thorough understanding of manufacturing process and technologies.
Laura thrives on working with clients on understanding their ideas and concepts of what the best piece of furniture means to them, and designing it accordingly so it meets and exceeds their expectations.
PAIGE CARROLL
Senior Design Engineer

A graduate of product and furniture design with a strong interest in upholstery, fabrics and other soft furnishings.
Paige has experience in manufacture and bespoke furniture, demonstrating strength in the real understanding of the process and the traditions of furniture making influencing the concept of modern furniture design.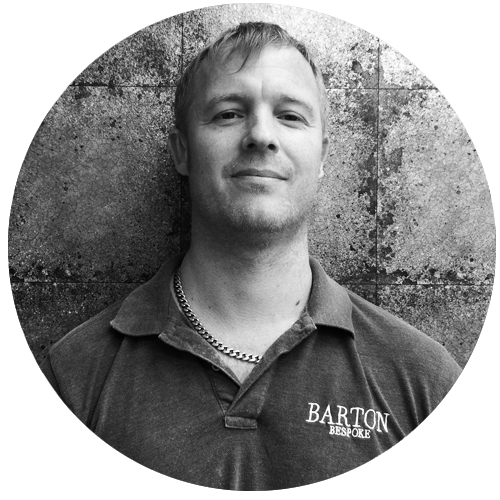 DEAN CAVERS
Senior Carpenter

Dean boasts 20 years of knowledge and experience, specialising in the carpentry of show wood furniture using traditional methods and classical machinery.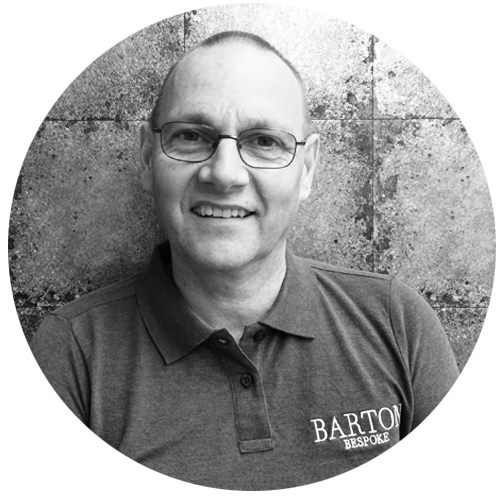 MICK BROWN
Programmer & Carpenter

Mick is our precision CNC (Computer Numerical Control) programmer, essential in the engineering of prototypes and product development. He is also an expert table and cabinet maker.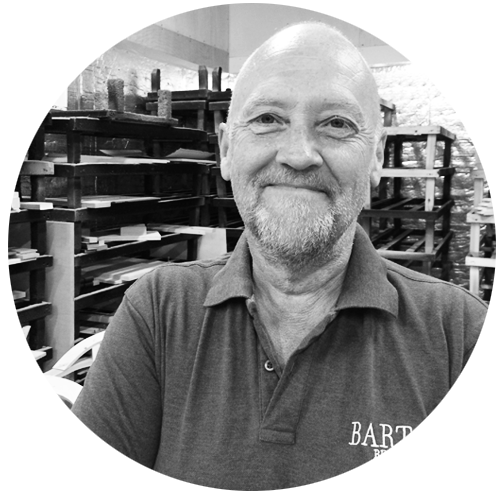 STUART MOSS-PEARCE
Senior Spray Technician

Specialising in the unique field of finishings, Stuart is Barton Bespoke's spray department technician.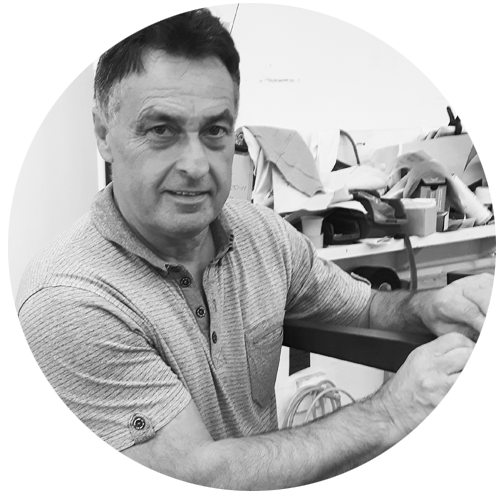 STEVE MAY
Senior Upholster

Steve is our talented development upholster with over 40 years experience of crafting and finishing furniture to the highest standards.